We are avid hikers, adventurous campers, and proud outdoorsy folk. We yearn for the connection with nature and the elements. The outdoors are a second home to us, so why would we want to trash this sacred space with toxic runoff and chemicals. Unfortunately, so many of the products we use to help us take on the elements have unforeseen consequences that extend past the damage done to our own bodies: things like BHT preservatives and mineral oil (a byproduct of petroleum oil) commonly found in sunscreen or bug spray can leach into fresh waters we bathe in and then into runoff systems.
We can connect deeper with our natural environments when we use plants as medicine. We can harness their anti-bacterial, anti-inflammatory and therapeutic properties to help protect and heal our bodies and minds, while also protecting our environment. Here are a few of my favorite plant remedies that are especially useful for outdoor excursions.
1. Comfrey Salve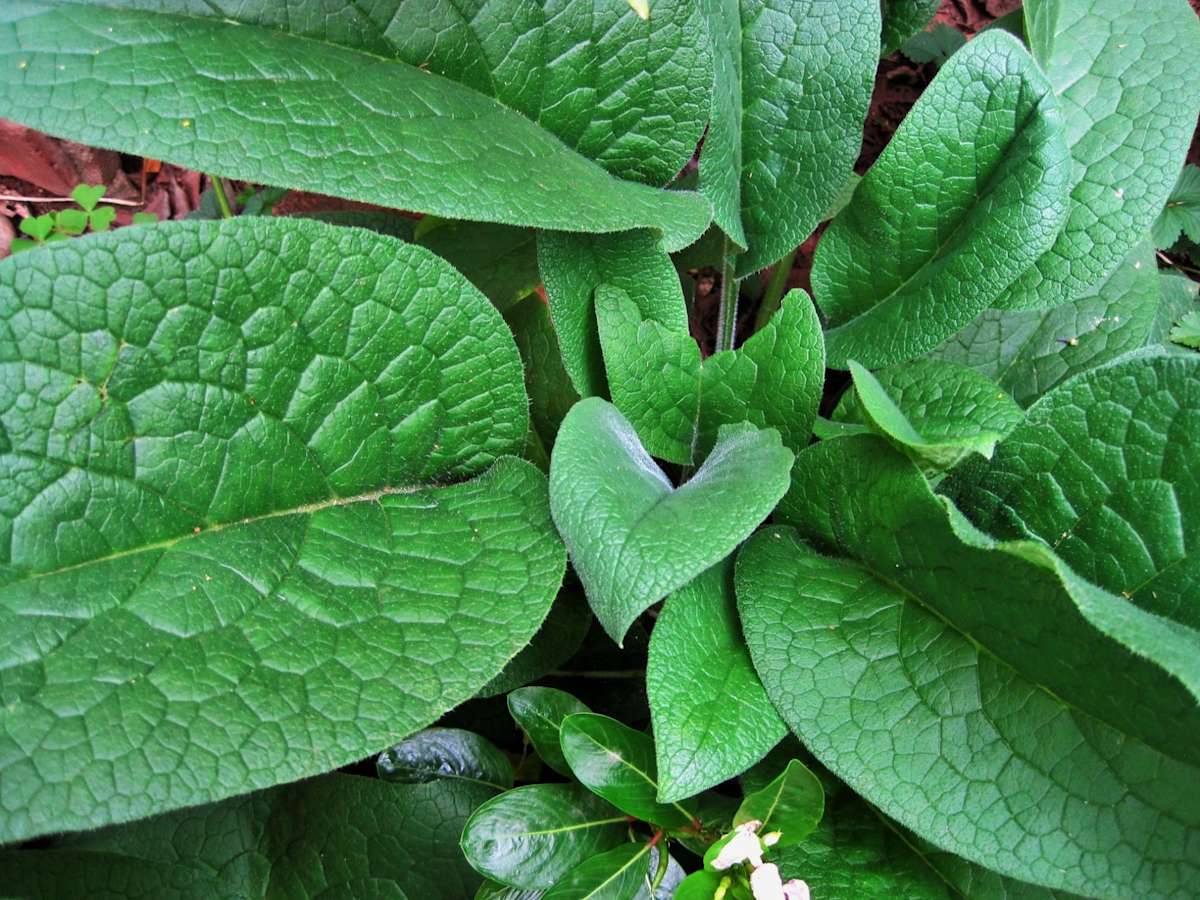 A great salve for all skin afflictions, be it a wound, bite, scratch or rash, comfrey-based salves are wonderful to have with you on your outings. An antibacterial, anti-fungal, and anti-inflammatory, comfrey is a tough, leafy green that grows in abundance in North America. It is high in Calcium, Protein, Vitamin C, and Allantoin—which makes it great at healing tissue and bone when taken internally as a tea or tincture. Externally, you will feel quick relief using this salve on your camping battle wound.
Create your own salve by infusing dried comfrey into organic olive oil in a glass jar. Let that infusion sit in the sun for 2-4 weeks, making sure to gently shake it every day. You will come to love the daily ritual of connecting to your infusion. Once the properties of the plant have infused into the oil, you can begin to work with it. Heat up bees wax and shea butter in a double boiler and add the infused oil as well as any other nourishing oils and butters too. I like to add Vitamin E, Calendula Oil and Almond Oil. Pour the liquid into a glass or metal jar and let it cool before you enjoy it.
Add a dash of baking soda and bentonite clay for their itch neutralizing and detoxifying properties. Now your salve can help you deal with itchy bug bites and burning poison ivy rashes.
2. Essential Oil Insect Repellent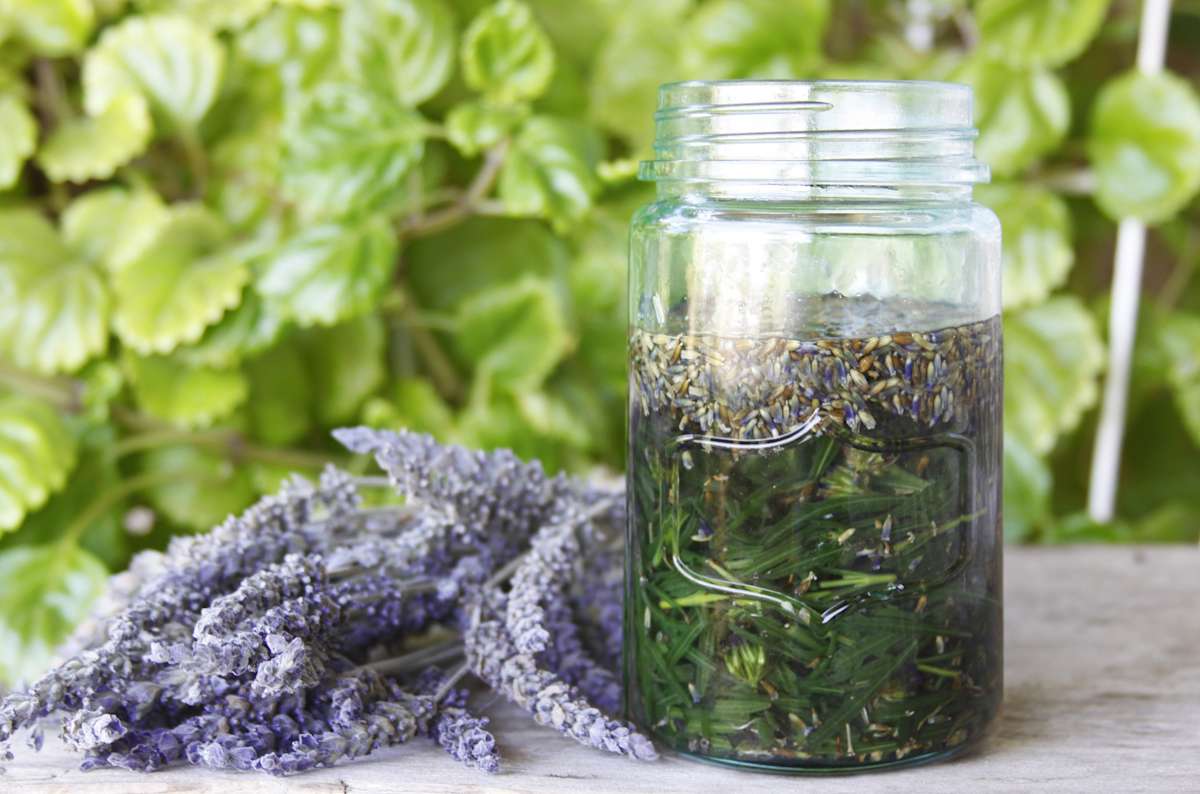 There are numerous natural alternatives to insect repellents that contain harmful toxins like DEET, which are terrible for our nervous system and the environment. Essential oils like citronella, eucalyptus, lemongrass, tea tree, lavender, and rosemary help deter mosquitoes and other pests. Rose germanium is also known as a particularly potent tick repellant. It is super simple to make these your own affordable and potent repellent.
To make your own insect and tick repellent, simply mix 5-10 drops of citronella, rose germanium and any other essential oils you enjoy into a spray bottle of distilled water. Add some rose water or Vitamin E into the mixture for a skin moisturizing boost!
3. Skin Healing Sunscreen
While it's important to catch some rays to convert into Vitamin D, which is crucial for optimal health, we also want to protect our skin from excessive UV by using a low SPR sunscreen. But at what cost? So many products sold in stores essentially burn chemicals into our skins. Avoid those toxins by making your own, low-cost sunscreen. The main ingredient here is non-nano zinc, which protects the skin very well from UV rays without all the extra chemicals. You can find non-nano zinc online or at a local health store and add it into your favorite lotion, coconut oil, or make your own sunscreen lotion.
To make the lotion, start a double boiler with any sort of oil or butter (I prefer Shea or Jojoba). Add in a smaller portion of coconut oil or almond oil. Add the non-nano zinc, vitamin E oil, and for an extra SPF some red raspberry seed oil or carrot seed oil. Mix well and pour into smaller containers. Let the concoction solidify as you make plans to conquer the outside world toxin free!
4. Arnica Salve
This is an excellent salve for muscle pains, bruises and sprains. Run some on your sore muscles at the end of the long hike for relief. If you include some cayenne pepper into the salve, it will give you a hot sensation—great for cold nights or more potent relief!
To make this salve, follow the instructions for the comfrey salve above. Use your arnica infused oil and add the cayenne into the blend.
Warning: arnica is only to be used externally—do not use on an open wound.

5. Meadowsweet Tincture
This wonderful plant has therapeutic properties that relieve headache, indigestion, heartburn, and inflammation pain. It is like aspirin without the nasty side effects. Simply grab this off the shelf of your local health food store.
6. Jewelweed
Jewelweed is a wonderful plant for poison ivy relief and luckily it usually grows near poison ivy. If you find it, you could create a poultice by chewing it up and place it on the infected area. Similarly, plantain leaf is a commonly found plant that serves as a natural antimicrobial band-aid.
7. Activated Charcoal Tablets
These are great to have in your kit because they help in the unfortunate circumstance of food poisoning, diarrhea, and parasites. The activated charcoal absorbs the toxins in the system and allows you to excrete them out. Drink a lot of water throughout the day to help the detoxifying process along.
Bonus: Healing Teas

Some great teas to have with you are Chamomile, Peppermint and Echinacea. Each serves a different and functional purpose on your adventure. Chamomile will help you relax and find some deep sleep after a long day, not that you need any help falling asleep after that last hike! It can also double as a poultice for rashes, burns and bug bites. Peppermint is a great herbal tea to settle the stomach or relief constipation. Echinacea is an incredibly supportive herb for its immune boosting properties. Drinking this tea consistently will help ward away any colds or infection. This is a wonderful tincture to have on hand as well.
You can get most of these recipes at any local health foodstore, but my go-to for bulk herb purchases is https://www.mountainroseherbs.com/.
If you're curious about medicinal and native plants, sustainable farming, community living and camping you can join a 12-day bus-trip with 30 other change-makers, camping at the top sustainable living centers in Southern California! Here is your opportunity to be guided through a life changing experience taking classes at ecovillages and permaculture farms from instructors who live what they teach.
Apply today – www.earthjourneys.org/tour
http://earthjourneys.org/wp-content/uploads/2016/09/crop.jpg
569
1055
Lynn Golan
http://earthjourneys.org/wp-content/uploads/2019/08/EJStackedClear-1-180x180.png
Lynn Golan
2016-09-16 04:36:30
2017-07-23 12:07:25
7 DIY Herbal Medicines for Campers (with Recipes!)